Taipei with @thefulltimewanderer_
If you've never been to Taiwan, you should definitely put the island on your bucket list – between the mountains, the beaches, the cities, the museums, the night markets (food, food, and more food!), and the nightlife, there is something here for everyone.  Not only is the country rich with culture and history, but it is incredibly safe and easy to get around.  Don't be discouraged if you don't speak Mandarin or Taiwanese!  Everything important has an English translation, and everyone is very friendly and helpful.
First, a friendly PSA:  Free. Public. Wi-Fi.  I know you're going to want to share pictures from the below adventures ASAP, so great news – there are over 4,400 hotspots in Taipei, New Taipei, Taichung and Tainan where tourists can access free pubic Wi-Fi.  When you first arrive in Taiwan, all you have to do is register for an iTaiwan account with your passport at any Taiwan Tourism Bureau center or Taiwan Visitor Information center located at the airport, all major MRT stations (metro stations) and tourist attraction sites.  Then, anytime you're near one of these hotspots, just sign on to your iTaiwan account and you're good to go!
Now, let's get to it.  Here is my list of 3 must-do day trips from Taipei!
1. Wulai Waterfall (烏來瀑布)
The Wulai District (烏來區) is the largest and most mountainous district in New Taipei, and home to the Atayal people of the Taiwanese aborigines.  To get there via public transportation, take the MRT to Xindian station and then Bus 849 to Wulai (you can use your EasyCard, Taiwan's version of a Metrocard, for both).  The bus is about a 40 minute ride and costs NT$15 ($0.50 USD).  Wulai itself is a small town and very walkable – from the bus stop, it's about a 30 minute stroll to the waterfall.
Along the way, you'll pass through Wulai Old Street, an open air market where you can grab some small eats or buy some souvenirs.  You'll also get a great view of the river gorge below the falls.  As mentioned, you can easily walk to and from the waterfall – however, you also have the option of taking a log cart for NT$50 ($1.67 USD) each way.  They're these cute colorful little trains almost like the ones little kids will ride at the mall.  We opted to take the log cart on the way up just for fun and then walk down.
As you near the top, you'll get your first glimpse of Wulai Waterfall – at the top, there are many different viewpoints of the waterfall for you to capture a picture and/or just take in its beauty.  The height of the waterfall is around 80 meters (262.5 feet) and is the tallest waterfall in Northern Taiwan!
Wulai Falls
Other things you can do in the area (that we opted not to do because it was raining) include:  take a gondola to the Yun Hsien Resort at the top of the falls (and get an overhead view of the waterfall!), soak in one of the area's infamous natural hot springs, or take one of the many hiking trails further into the mountain.
Depending on how much time you spend in Wulai, here are some additional suggestions for things to do while you're already out and about:  after you take the Bus 849 back to the MRT but before you get back on the metro, just across the street from the Xindian station is Bitan (碧潭), a riverfront park home to a lot of restaurants, carnival activities, paddle boat rentals, and a large suspension bridge connecting to a neighborhood on the other side of the river.
2. Shifen Waterfall (十分大瀑布)
Located in the Pingxi District (平溪區) in New Taipei is the country's widest waterfall, Shifen Waterfall, measuring 20 metres tall (66 ft) and 40 metres wide (130 ft).  Part of its appeal on sunny days is that it creates a rainbow as it splashes into the lake, but similar to Wulai, it was raining on the day we went (kinda par for the course in January).
To get to here, you can take a north-bound train from Taipei Main Station (except Keelung bound trains) to Ruifang Station.  From there, transfer to the Pingxi line (平溪線) and purchase a one day ticket for the Pingxi line for NT$52 ($1.73 USD).
There is a lot of history in Shifen, as the Pingxi line was originally built for transporting coal and runs right through the center of Shifen Old Streets, an open air marketplace where you can not only buy souvenirs, groceries, and food, but you can also create Chinese lanterns (天燈) with a wish written on it to set into the sky.  If you happen to be in town during the famous Pingxi Sky Lantern Festival (Mar 2, 2018), I'd advise coming here then!  The district's sky lantern festival was named in Fodor's list of 14 Festivals to Attend Before You Die and CNN's 52 Things To Do in 2013.
The falls are about a 30-minute stroll along either side of the railroad tracks heading Northeast (through Shifen Old Streets away from the train station where you were just let off).  Along the way, you'll cross two suspension bridges, as well as a smaller waterfall, Yanjingdong Falls (眼鏡洞).   When you reach Shifen Waterfall, you'll understand why it's aptly nicknamed the "Niagara of Taiwan" – it truly is a sight to behold.  Note that there are many viewpoints for the falls, so make sure to continue along the trail to find the others!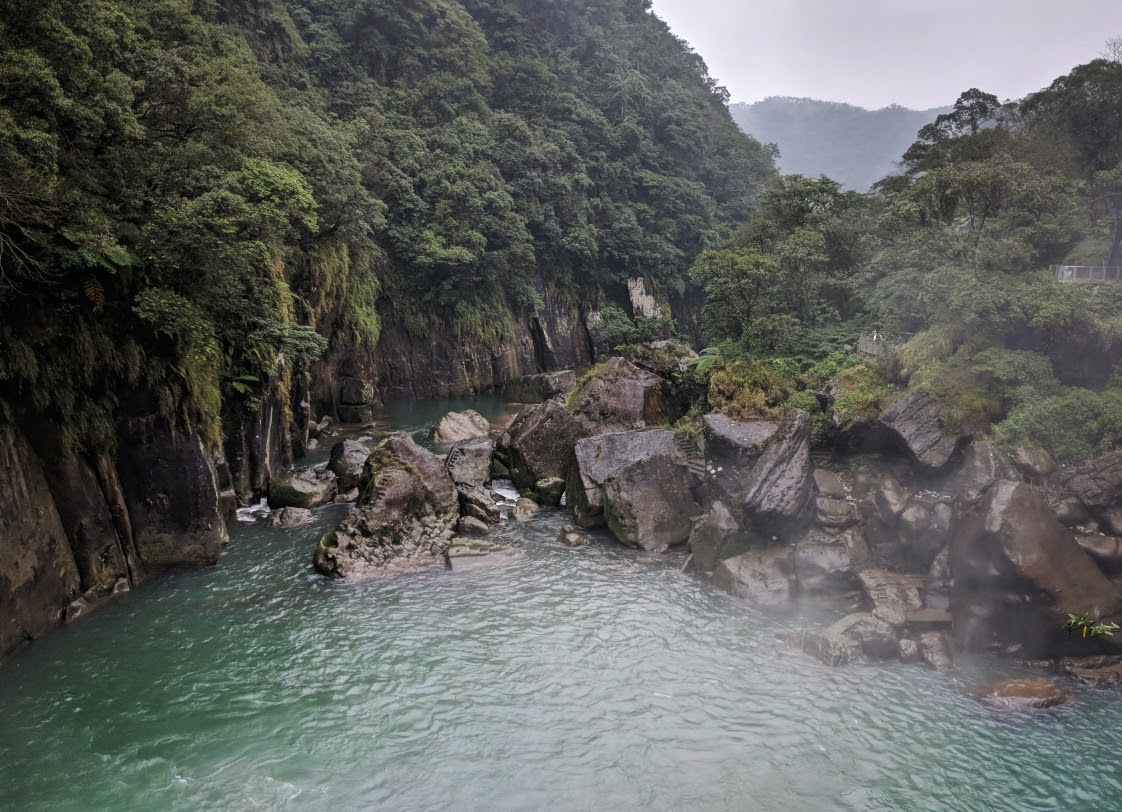 Again, depending on how much time you spend in Shifen, here are some additional suggestions for things to do while you're already out and about: when you get back to Ruifang train station, you can take a bus to Jiufen Old Street (九份老街), a small village in the mountains with a beautiful view of the ocean that used to be the center for gold mining.  By the time you're done exploring Jiufen, you can head to Raohe Night Market (饒河夜市), one of the oldest night markets in Taipei and the epitome of a traditional Taiwanese night market, located right outside of the Songshan MRT station.
3. Qixing Mountain (七星山)
Qixingshan, or "Seven Star Mountain", is the tallest mountain in Taipei and the highest dormant volcano in Taiwan.  It is located in the center of Yangmingshan National Park (阳明山国家公园) and its main peak is 1,120  metres (3,675 ft.) above sea level, while its eastern peak (東峰) just 400m away is 1,107 metres (3,632 ft.) above sea level.
To get there:  take the MRT to Shilin station, then the R5 bus to Yangmingshan National Park visitor center, then the Bus 108 to Xiaoyoukeng (小油坑), which will be the start of the Qixingshan hiking trail.
The route we took (Xiaoyoukeng to Qixingshan Main Peak to Qixingshan East Peak to Lengshuikeng) was about 4km (2.5 miles) – not a very long distance, but the trail is fairly steep (30-50 degree slope) and about 80-90% of it is stone steps.  On the way up from Xiaoyoukeng, the trail is mostly arrow bamboo and grassland – you will also see (and smell!) the fumaroles (openings through which hot sulphurous gases emerge).
I'll be honest – the fog was so intense the day we went that our visibility was very low and we weren't able to see any of the infamous views that I had seen so many great pictures of (honestly – January, probably not the best time to visit Taiwan ;)). However, the geology of the trail itself was still fascinating, and the hike was definitely was a solid leg/butt workout. Reaching the Qixingshan Main Peak definitely feels like a great accomplishment!
The trail to Qixingshan's East Peak and down to Lengshuikeng is slightly longer than the way up to the Main Peak (part of the reason we took this specific route!), but there is an open-air communal foot-soak pool at the bottom (the other reason we took this route) for you to rest and rejuvenate your tired feet!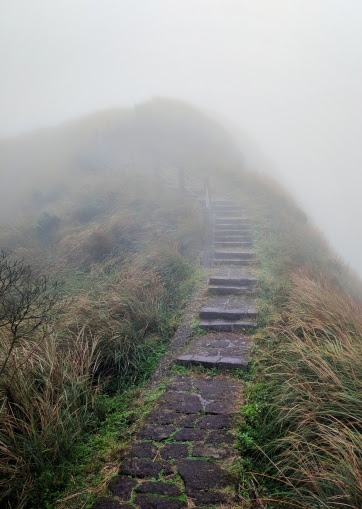 After your relaxing foot soak, you can take the Bus 108 back to the Yangmingshan bus stop, and stroll around the National Park itself from there.  Depending on when you go, the famous flower clock may be in full bloom, which is definitely a must-see!  I'm sure you'll be hungry by this point, so when you get back to the Shilin MRT station, make sure to stop by the Shilin Night Market, another of Taipei's larger and more famous night markets.
So there you have it – my 3 must-do day trips from Taipei!  I would love to hear which of these you'd be most excited to visit.  And if you've visited Taiwan before, please let me know what other suggestions you have for must-do outdoor adventures!
Check out more adventures at http://www.thefulltimewanderer.com/ and follow her on Instagram @thefulltimewanderer_
---